It's always a good time to plan a trip to the coast, but have you ever thought about visiting Watamu? If you are among those planning to get away then here's a roundup of some things to do and see at Watamu.
Watamu
is a Swahili word that translates to 'sweet people'. A trip down to the coast for me must always include a day in Watamu because there is always something to do and enjoy with
family
or
friends
. Aside from restaurants that are definitely worth checking out, there are tons of activities to do as well.
Watamu is best known for its
Marine National Park and Reserve
as well as its sandy beaches and coral gardens. These are considered to be Watamu's defining features. It offers a variety of tourist attraction sites and activities geared towards environmental and wildlife conservation.
My go-to activities when holidaying in Watamu include a day by the beach, exploring restaurants to experience exquisite tastes and taking part in activities that will have my heart racing. This will form part of my Watamu discovery.
Without further ado, below is a list of things to do in Watamu that are absolutely fun and memorable.
Spending Time With Dolphins
Courtesy of the Watamu Marine Association in conjunction with Watamu Marine National Park and Reserve, you can safely watch the dolphins. You can see the Indo Pacific bottlenose dolphins and Indian Ocean humpback dolphins.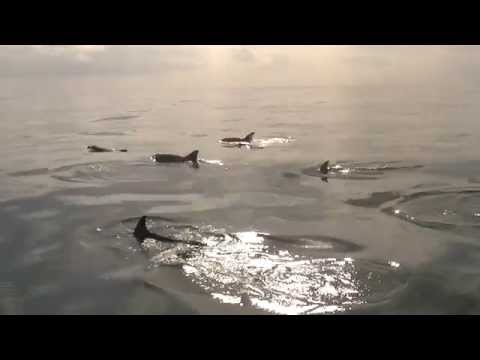 There are tour guides provided by the Watamu Marine Excursions who have years' worth of experience when it comes to dolphin watching. If you are lucky enough, you can also have a chance to swim with the dolphins, just like we see in the movies.
However, it is strongly discouraged, not unless the dolphins come to you when you are already in the water. Then and only then can you be lucky enough to say you swam with dolphins. They are said to be wild and are very protective of their young ones. This would be a dream come true for many as it would probably be at the top of everyone's list of things to do in Watamu.
A Boat Cruise In Mida Creek
It is one of Kenya's hidden treasures and here is why. It is a broad water tidal creek that springs from the sea into Arabuko Sokoke Forest and one can spot palm trees and widespread mangrove trees. It also boasts open shallow waters as well as mud and sand flats which are influenced by the tide.
It is considered a natural attraction because it serves as a stopover point for birds that are migrating. It is a feeding and breeding ground for a variety of fish species and home to sea turtles. There is the mangrove as well as different species of seagrass and seaweed.
Mida Creek is listed as an International Bird Area which makes it an Important Bird Area (IBA). Together with Arabuko Sokoke Forest, Mida Creek is a part of the UNESCO Biosphere Reserve. Mida Creek offers a little bit of everything. For the foodies, there happens to be a crab shack that serves crab dishes and is run by the Mida Creek Conservation Community.
Foodies can dine as they take in the view at the Mida Creek eco-camp which offers accommodation and various excursions like canoe rides. Mida Creek in Watamu is best explored by cruising in a boat at sunset in the golden rays of the sunset as the birds are flying high. If you love a romantic setting, what are you waiting for? Get yourself to Mida Creek.
Visit The Gedi Ruins
There is a lot of mystery behind the ruins of Gedi as its historical record is almost nonexistent. The secrecy behind its existence is not known as well as the cause of its downfall.
Gedi ruins is said to have been a Swahili settlement. There are many assumptions as to when the ruins were first established. Estimates point between the 12th and 15th centuries. The ruins had its walls rebuilt at some point and it is through careful preservations that most of its original foundations can be seen even today.
The ruins of Gedi consists of an impressive mosque, a magnificent palace, coral brick houses and pillar tombs.
For history fanatics, and anyone for that matter, there is so much to learn by visiting the Gedi ruins and this should be on your destination list when heading to Watamu.
For example, the theories behind the desertion include the Wazimba raid in 1589, the Galla people who made life unbearable, lack of water due to drying of the wells and the removal of the Sheikh of Malindi.
The ruins of Gedi are a National Monument. They were declared a protected area in 1929 and are currently under the care of the National Museums of
Kenya
.
Tour The Bio-Ken Snake Farm
It is home to a wide range and variety of venomous and non-venomous snakes. It is far much better than just any snake park. This is because it is a medical research farm that milks snake venom so as to facilitate the preparation of anti-venoms used to treat victims of snake bites. It also offers a free service of removing snakes from people's properties in Watamu and the surrounding area.
Bio-Ken teaches and educates people on the best ways to handle a snake bite, why people should not just kill them at sight and their importance, through bi-annual seminars attended by worldwide experts. There is so much one can learn. I would personally not dare step foot near a snake, even one sealed in a glass case because I would literally have nightmares.
These are just but a few places to visit in Watamu and things to do in Watamu. There are more things that one can do in Watamu like, kite surfing, snorkelling, scuba diving and deep-sea fishing.
Read More:
18 Crochet Hairstyles That Will Make Heads Turn